Qmail-outbox patch
This qmail patch provides qmail-outbox-queue, a qmail-queue replacement that detaches large attachments from an email and replaces it by a text message showing the URL where the attached file can be downloaded. It calls an external outboxer program to put the attachment on a web- or ftpserver and to return the URL.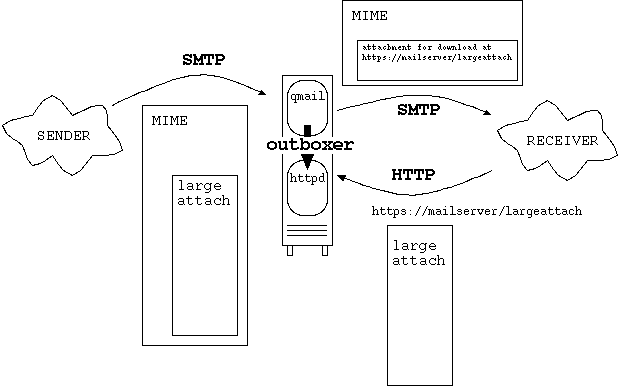 This software is meant to alleviate the problem of transferring large documents between organizations, where for some reason uploading to an ftp- or webserver is not an option.
On outgoing mail, it puts the attached document automatically on a server for later download by the mail recipient (an operation you would otherwise have to do manually).
On incoming mail, it avoids mailboxes exploding with large attachments. People at your organization are forced to download the document and save it at an appropriate place instead of leaving it in their mailbox.
Usage
The simplest way is to compile qmail with the patch applied and replacing your present qmail-queue binary with the freshly compiled qmail-outbox-queue. Note that the patch is on netqmail-1.05, but the resulting qmail-outbox-queue is compatible also with qmail-1.03 installations.
You can use the QMAILQUEUE environment variable to select qmail-outbox-queue. This you can also do selectively in your tcpserver rules file. For example with:
10.:allow,QMAILQUEUE="bin/qmail-outbox-queue"
you would only do outboxing on mail from 10/8-addresses (your internal addresses for example). Vice versa you can selectively apply outboxing on incoming mail.
Downloads
Contributions
Documentation
Caveats
this software is beta code
this software code changes bodies of email
this software may interfere with security, virus checking, signatures
this software may allow email senders to make unwanted content available through your webserver
this software does not adhere to RFC2045 for detection of MIME attachments (should integrate ripMIME?)
some Outlook versions have a bug where they do not honour the Content-Disposition: inline MIME header
---
This page is maintained by Frederik Vermeulen.